Commissions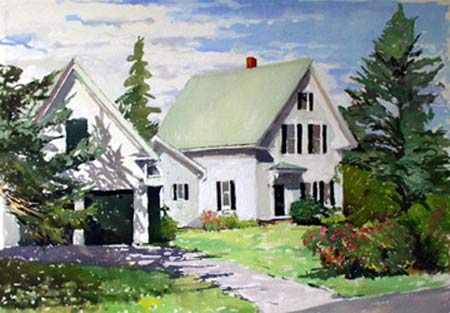 For commissions other than portraits, the cost is dependent upon many factors, including: size, medium, and complexity. As a general rule, it can be roughly estimated by size in square inches, and can range from $6 -$15 per sq in.
Portrait Commissions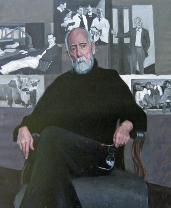 I enjoy working with the client closely, and spending some time through sittings and discussion to get a sense of their individuality and uniqueness. Depending on the sitter's time commitments, this varies, but at least four meetings are required. I think some of the most meaningful and artistic portraits are done directly from life and I encourage this although there are times I will be persuaded to use photos if a client cannot make the portrait sittings, or if a child is involved. However, I have painted children as they listen to a story or have a loved one reading to them. It is a wonderful experience for all.
First meeting – Client and I discuss wishes including; personality of the subject/s, whether painting will be executed through sittings (preferred) or photos, size of portrait, fees. A few preliminary thumbnail sketches are executed.
Second meeting – I take a series of photos, or if the setting is complex, a professional photographer is used. The photographer, if hired, is paid on this day by the client and it is an additional fee. One third of the portrait fee is also due at this time. If the client is sitting for their portrait, we will discuss prior thumbnail sketches, decide on a composition and proceed to lay in the painting.
Third meeting – Photos are reviewed and composition of painting is discussed. If the sitter is being directly painted, a schedule will be worked out between myself and the sitter.
Fourth meeting – The canvas is presented to the client with the composed image for approval. Any changes are discussed. If it is necessary, another meeting is set up to review the changes. The second payment is due upon client approval of the drawing.
Final meeting – Completed painting is presented. Occasionally there are some minor adjustments discussed at this point. Unless another meeting is necessary, the final payment is due at this time.
Portrait prices (estimates only-for oil on canvas portrait)
Head and Shoulders $ 10,000
3/4 Length $ 15,000
Full Length $ 20,000
prices DO NOT include: PROFESSIONAL SERVICES, TRAVEL, TAXES, FRAMING, or SHIPPING & HANDLING